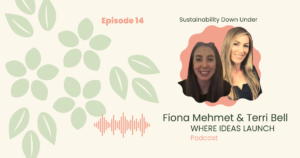 Where Ideas Launch takes a trip down under to Australia as our guests explore sustainable work and supply chains.
I'm joined by Fiona Mehmet from Brisbane who is the founder of Allthingsfi a sustainable brand, marketplace and ethical business.
Also joining me is Terri Bell – an Australian Lawyer with a boutique commercial law firm based in Sydney.
Explore topic here